Welcome to Goldychocs Labrador Retrievers
"Labradors You Would Be Proud To Own"
***THOUROUGHLY COMMITTED TO BREEDING QUALITY LABRADORS WITH
EXCELLENT TEMPERAMENT AND CONFORMATION***
VICTORIA based, Labrador Retriever breeder, previously from Brisbane and exhibitor of Labrador Retrievers in the conformation show ring and obedience trial competitions. We also have trained and own two fully Certified Clinical Therapy Dogs through Therapy Dogs Australia.
***GENUINE MULTI-PURPOSE BREEDING***HOME OF QLD'S TOP WINNING LABRADORS 2012 & 2013***
~EXCELLING IN THE SHOW RING, OBEDIENCE TRIALS and THERAPY DOGS~
***Latest News***
"Keeper" - Goldychocs Tui wins Best Junior Bitch and Opposite Sex Best Junior in SHOW at the 11th Labrador Retriever National in May 2022 under UK breed specialist, Miss R Hodge.
Critique: "14 month old choc. Was really taken with this young girl. The best is yet to come from her, but I liked her overall style. Pretty head, eye still to darken. Loved her clean outline. Excellent front and rear construction. Has enough bone and this will improve as she matures. Excellent coat, in good condition, moved out well."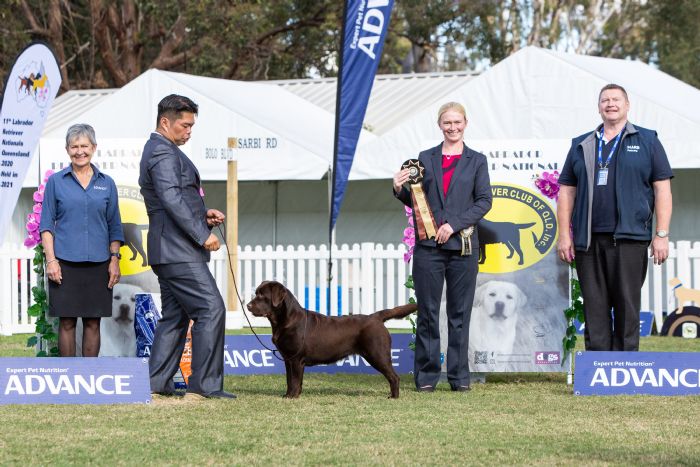 I have been actively involved with showing and breeding dogs for over 30 years. I grew up showing and breeding Beagles in NSW under the guidance of the late Mrs Jill Seymour (Beagriff) and Miss Gwenda Golding (Urliup).
After a break while completing my music and teaching qualifications at university and having children, I longed to return to the competitive dog world. I owned my first Labrador in my early twenties and she was a most wonderful part of my family's life. From that time on, I have been hooked on Labradors!
I feel that the well-bred Labrador is the perfect companion for all families and my aim is to do everything I can to keep them that way through ethical breeding practices. I will not compromise or take shortcuts with my dogs for the sake of the dollar and my dogs will only go to approved homes.
My family and I regularly exhibit our Labradors in conformation shows and compete with our dogs in obedience trials. Two of my dogs are fully Certified Clinical Therapy Dogs and work with young people with me, supporting with behavioural, mental health and educational needs under my business, Kidz N' K9z.
All breeding stock is hip/elbow scored and DNA tested for PRA (PRCD) and EIC with young dogs being tested for the full range of tests currently available.
All puppies are registered on either the Limited or Main Register with Dogs VIC.
Banner photo: Australian Champion Goldychocs Too Sweet CCD. CDX. JDX. AD. RAE. at 13 months of age.
134549 Visitors