Obedience Trials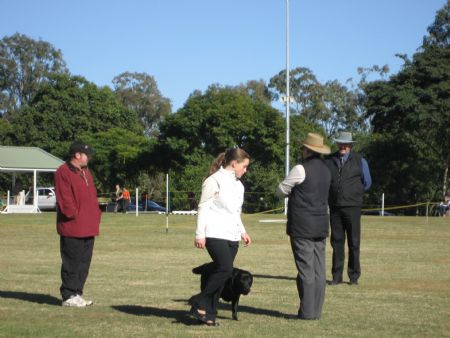 One of the most rewarding things we do with our dogs is Obedience training and trialling. For me, this is where our Labrador Retrievers really shine as our dogs have an amazing instinctive desire to please us. They seem to thrive on the knowledge that they are doing something that makes us happy and proud of them.
I always encourage all puppy buyers to enrol their puppy at their local Obedience Club (from 4 months of age) as I know training will make a huge difference to whether that puppy ends up being a happy adult dog or not. Training at a Club as opposed to training only at home also makes a big difference as it allows plenty of opportunity for your dog to be taught to socialise appropriately with other dogs and strangers. For owners, obedience training and trialling would have to be one of the most satisfying things you can do with your dog. People seem to not only get a kick out of 'showing off' their dog's talents but, more importantly, the bond and trust that is built between them and their dog is immeasurable. Simply having a well behaved dog that can be trusted anywhere you go is well worth the effort.
Like with any breed, some Labrador Retrievers are more suited to obedience trialling (competing) than others. Trainers at your local Club will definitely be able to tell you when you and your dog are ready to compete at an Obedience Trial. This will depend on your dog and the amount of training you put in. I recommend regular training (preferably daily) for short periods of time rather than one or twice a week for a long period of time. This is due to the fact that you and your dog will lose concentration over a period of time and start making silly mistakes. Short periods of 'targeted' training will work wonders as you can reinforce what you have learned so that it becomes natural.
Actually trialling/competing with your dog in obedience gives you motivation to keep improving as you and your dog achieve the qualifications to move to the next level. Even just completing the first level (C.C.D.), which is done with the dog on lead (except for stays), will equip you with the tools to train your dog so he/she is a pleasure to own. Once their dog has qualified at that level, most people are 'hooked' and want to keep working towards the next level. The sport is so much fun and is a great way to meet likeminded people. Other competitors will often help you out by sharing their experiences and knowledge as you are all eligible to 'qualify' on the day and don't need to beat any other dogs to achieve qualification. Places (1st, 2nd and 3rd) are awarded at each level at each trial but they are merely a bonus for a trophy or prize and have no impact on whether your dog meets the requirements to attain their title. Therefore, for the most part, there isn't the 'competitive' spirit that is found at conformation shows where dogs are in direct competition with each other for points. A most enjoyable day can be had by all handlers and dogs.
So you want to Trial your Labrador Retriever?
This information should help get you started:
I'm assuming that you have already joined your local/preferred obedience club, have done the necessary training and have been given the 'nod' that you and your dog are ready to begin competing at the first level. Being told that "you" are ready is just as important in obedience as being told that your dog is ready. A large proportion of points that are lost in obedience trials are due to handler mistakes. You are penalised just as much for mistakes as your dog and in most cases, dogs make mistakes due to handler error!
Firstly you need to become a "Member" of the Canine Control Council of your state (application forms are generally available on their website as well as a schedule of fees). Once your membership is ratified and you have your membership number, you will usually receive a monthly magazine that outlines the upcoming Obedience Trials that you could enter - in QLD this is the "Dog World". You DO NOT need to own a registered or purebred pedigree Labrador Retriever to compete but (once you are a member) you must apply to register your dog on the Associate Register. To be registered on the Associate Register in QLD, your dog must be de-sexed and your application accompanied by a Certificate of De-sexing from your vet. This will give your dog the appropriate registration number to be recognised for obedience Titles or 'letters' after their name. You can find the appropriate form (Registrations - Associate Register) here.
I also recommend that you order a copy of the ANKC Rules for the conduct of Obedience Trials so that you can become familiar with all of the rules and penalties. The rules can be purchased from Dogs QLD in a small handy booklet or can be downloaded from the ANKC website here.
*If your Labrador is already a Registered purebred dog, it will already have a Registration Number with Dogs QLD on its Certificate of Registration and Pedigree and you do not need to apply for another number.
You will need to order some official entry forms from Dogs QLD and complete the details for the Trial and class you are entering as well as your dog's and your details. Send that to the required person with a cheque for the entry fee so it gets there by the closing date advertised.
Start by entering your dog in the Community Companion Dog class (known as C.C.D.). Turn up to the trial at the time advertised as "Vetting" time as you will need to take your dog for a quick health assessment prior to competing. For entire bitches (i.e. not de-sexed), this means that they must not be in season. In fact, bitches in season are not permitted on any obedience grounds either at trials or at training. You need to collect your competitor number which must be displayed on your left arm during competition. You will also be given a catalogue which shows the order of competition for each class. Find out which ring your class will be held in and once 'vetting' has been closed, the ring stewards will note any absent competitors on their scoreboard outside each ring. It is important to note the absentees at this point as it will affect when you need to be ready. For example, if you are competitor No. 3 in your class (C.C.D.) and competitor No. 1 and No. 2 are listed as "ABSENT", you will be on first! It is up to you to be ready outside the ring (at the advertised "Start" time if you are on first) with your dog on an appropriate lead. You must be ready to compete or you will also be called absent and miss out altogether. Otherwise, be ready outside the ring when the competitor before you is in the ring - at the latest - and let the ring steward know that you are there.
Nearly all of the activities judged in C.C.D. are completed with your dog on lead. You will enter the ring when the Steward directs you to with your dog on lead and line up next to the starting post or peg. This is the case for ALL levels of obedience trialling. Usually the judge will be introduced to you and then you will be required to complete a 'Heel on Lead' exercise as directed by the judge. The judge will ask you, "Are you ready" to which you need to answer, "Yes" and scoring commences from that point on. All of the parts to the healing exercise should have been learned at training including the three different paces of 'slow', 'normal' and 'fast'. The judge will score the exercise out of 30 during the process. Points will be deducted for a range of faults including poor/crooked sits, double signals (handler error), anticipating commands, pulling on the lead etc. Once the judge says, "Exercise finished" you can relax and move back to the starting post - this is the time when you can pat your dog and let him know you are happy with him. You will then be told what exercise is next and asked again, "Are you ready?" (this happens before each exercise). You will then complete a 'Stand for Examination' at the direction of the judge and will receive a score out of 10 for that part. You return to the starting post again for the next exercise which is the 'Recall' and is scored out of 20. This exercise needs to be completed 'off lead' so the judge will ask you to 'remove the lead' and you hand it to the Ring Steward. After the exercise, the Ring Steward will return your lead and you immediately put it back on your dog. I should note that your dog must always have a suitable collar or check chain on during the trial. That will conclude the first part of your competition and you will be escorted out of the ring.
Once all of the other competitors have completed their turn at the above exercises, the Ring Steward will usually call you all back for the 'Group' exercises which are the 'Sit Stay' and 'Down Stay'. For this part of your competition, you will be put in order (competitor number) and told to follow the Ring Steward back into the ring (stay in line) and line up behind the appropriate marker with your dog. Once everyone is positioned next to their markers, the Ring Steward will walk along and collect all of the leads. You can still relax with your dog at that point but listen carefully to the judge. You will be directed to command your dog into a 'sit' position next to your marker. Everyone will then be asked together, 'Are you ready?' At this point, if you are not ready or your dog is not in a straight 'sit' next to the marker, you should call out, 'No' and get your dog ready. Do not touch your dog, command them into position. Once you look ready, everyone will be asked again whether they are ready. If everyone is then ready, the exercise begins and you will be scored from that point on. The judge will direct you to 'Leave your dog'. You must all then walk in a line together away from your dogs and when directed by the judge, about turn and face your dog. You stop there and the judge will time the sit stay for 1 minute. You must not signal your dog at all but stand completely still. Once 1 minute has elapsed, you will again be directed to 'Return to your dog'. Again, you all walk back in a neat line and around your dogs, back to the heal position. ONLY once the judge says, 'Exercise Finished' do you let your dog move or say anything to your dog. After letting your dog know if they did the sit stay well, you command your dog into the 'down' position next to the same marker. Again, the process is the same as for 'sit stay' but the 'down stay' will continue for 2 minutes. After the 'down stay' is completed, the Ring Steward will bring you back your lead and you will be excused from the ring. Both stays are scored out of 20 each so the stays are worth 40 points total.
The total score for C.C.D. is 100 and you need to achieve a score of 75 or greater to receive a Qualifying Card. In addition, you must not be disqualified from ANY exercise or you cannot qualify regardless of your total score. Therefore, if you receive a "0" or "NQ" score for 'Stand for Examination' and do every other exercise perfectly, your total score would be 90/100. However, your dog would still NOT qualify as they must qualify in each exercise too. If you do qualify at the trial, you need to stay for the Presentation to be given your Qualifying Card. You need 3 of these qualifying cards in C.C.D. to qualify for the title of Community Companion Dog. Once you have the 3 qualifying cards, you send in the details on the appropriate form ("Title Forms - Non-Championship") here.
You must include the relevant fee and your Certificate of Registration and Pedigree (or Associate Registration Certificate) with your application for title and you will receive a new certificate with the letters C.C.D. after your dog's name.
Once your dog has attained the title of C.C.D., you can start entering and competing at the next level which is Companion Dog (known as C.D. or Novice). From Novice onwards, all activities are completed with the dog 'off lead'.
I won't go into details of competing at each obedience level as you will learn about these once you are actively involved in trialling from C.C.D. onwards. As previously mentioned, the next levels are completed off lead but they also increase in difficulty and more tasks are added so they are scored out of 200. However, as a brief overview, the following levels/titles are available to achieve with your dog: (each one must be attained before you are eligible to move on to the next)
C.C.D. (Community Companion Dog)

C.D. (Companion Dog or Novice)

C.D.X. (Companion Dog Excellent or Open)

U.D. (Utility Dog)

O.C. (Obedience Champion) *Completed at U.D. level after 5 additional scores of 185/200 and over, under 3 different judges

U.D.X. (Utility Dog Excellent)

Gr.O.C. (Grand Obedience Champion) *Completed at U.D.X. level after 5 additional scores of 185/200 and over, under 3 different judges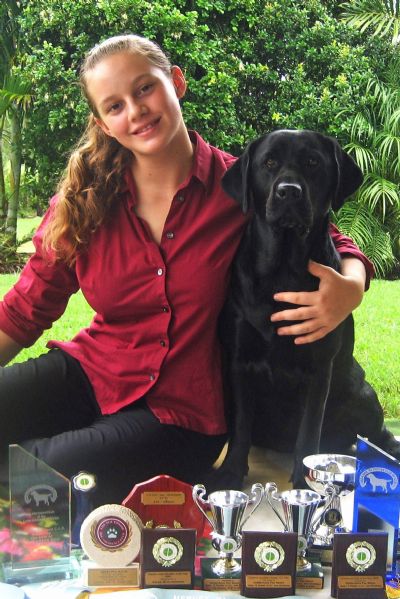 I'm sure that you can see it is not an easy task for you and your dog to achieve the level of Obedience Champion, let alone Grand Obedience Champion. It takes many hours of training and lots of mistakes before you and your dog will get to that level. However, I don't know of anything more rewarding that you can do with your dog. You don't have to go all the way either, just getting to Open Dog is quite an achievement and you will have a very well behaved dog that you will no doubt be extremely proud of at that stage. In fact, you will probably love it so much that you will want to start working on another one too.
Come along and watch a trial, there are always plenty of friendly people prepared to give you some tips on getting your dog ready for competition. Hope to see you there!